Coming Up On The Andrew Carrington Hitchcock Show Monday July 31 To Friday August 4 – Michael Walsh / Mark Anderson / Gertjan Zwiggelaar / Robert Gaylon Ross / Dr. Adrian Krieg
10am-11am US et : 3pm-4pm UK Monday to Friday
MONDAY JULY 31
Michael Walsh – Lawrence Burns' Poem, "The Adversary."
On today's show I was joined by Michael Walsh, who read out a poem by the UK political prisoner, "Lawrence Burns."
Here is the poem:
The Adversary
I know you, you mortal enemy of my people
the ones who are possessed
to do the will of the one that is evil
and put us to the test
You are the demon the corrupts mankind
the Antagonist of history
as Kings' heads rolled and civilizations declined
your crimes remained a mystery
You drank the blood of Christian children
to strengthen your pact with hell
and as the Black Death killed them
it was YOU who poisoned the wells
You helped Spain fall into their enemies hands
when you collaborated with the Moors
and today when barbarians invade our lands
it is you who opens the doors
It was you who overthrew the Tsar
and ruled Russia through your Marxist minions
as half of Europe fell to the Khazar
White Christians were slaughtered by the millions
Your lust for misery and death unsatisfied
you started two world wars
millions upon millions more white men died
and still you wanted more
Now that you've killed off our best generations
and put our heroes into graves
you have poisoned the soul of our nations
and turned the masses into slaves
Homeland, discipline, honour and courage
and all noble ideals you despise
all that is corrupt you encourage
you rejoice as our nation dies
That which is beautiful and good you hate
in ugliness and depravity you revel
you are the plague that destroys all healthy states
you missionaries of the Devil
You have detached our people from their history
and filled their minds with all things vile
like branches snapped off from a tree
you have thrown them in a pile
You have robbed us of our birthright
for which our fathers fought and toiled
while you live as a parasite
upon our Father's soil
You control our people's livelihood
that those who dare protest
might be crushed under your heel good
and swiftly dispossessed
We who reject your slavery
you persecute and oppress
and for our deeds of bravery
we are slandered in your press
Your presence precedes the darkest ages
when defenders of their nations are labeled traitors
liars and hypocrites are loved as sages
while patriots are jeered by the masses who hate us
Yet we never abandon our people
though many will denounce us
we will destroy your empire of evil
and history will count us
We are not your consumers and slaves
we faithful and determined few
our people from you we'll save
they are not the property of a Jew
We'll fight for freedom against all odds
we'll destroy your values and idols
we spit on your false gods
your ways are suicidal
Though we live in an age of trials and treason
still with faith we fight
for God created darkness for a reason
that His stars may shine bright
We face adversity with defiant smiles
for it brings us glory
for without obstacles and trials
man would have no story
You can slander and arrest us
we will never break or give in
for in hard times does God test us
and by the will of God we will win!
We then discussed: the similarities between Mike and Lawrence's persecution and subsequent jailing; the history of Nationalist publications such as Spearhead, National Front News, Phoenix, and Combat; I also ran through some interesting articles from November/December 1963 edition of Combat Newspaper, which Bernie Davids kindly sent me.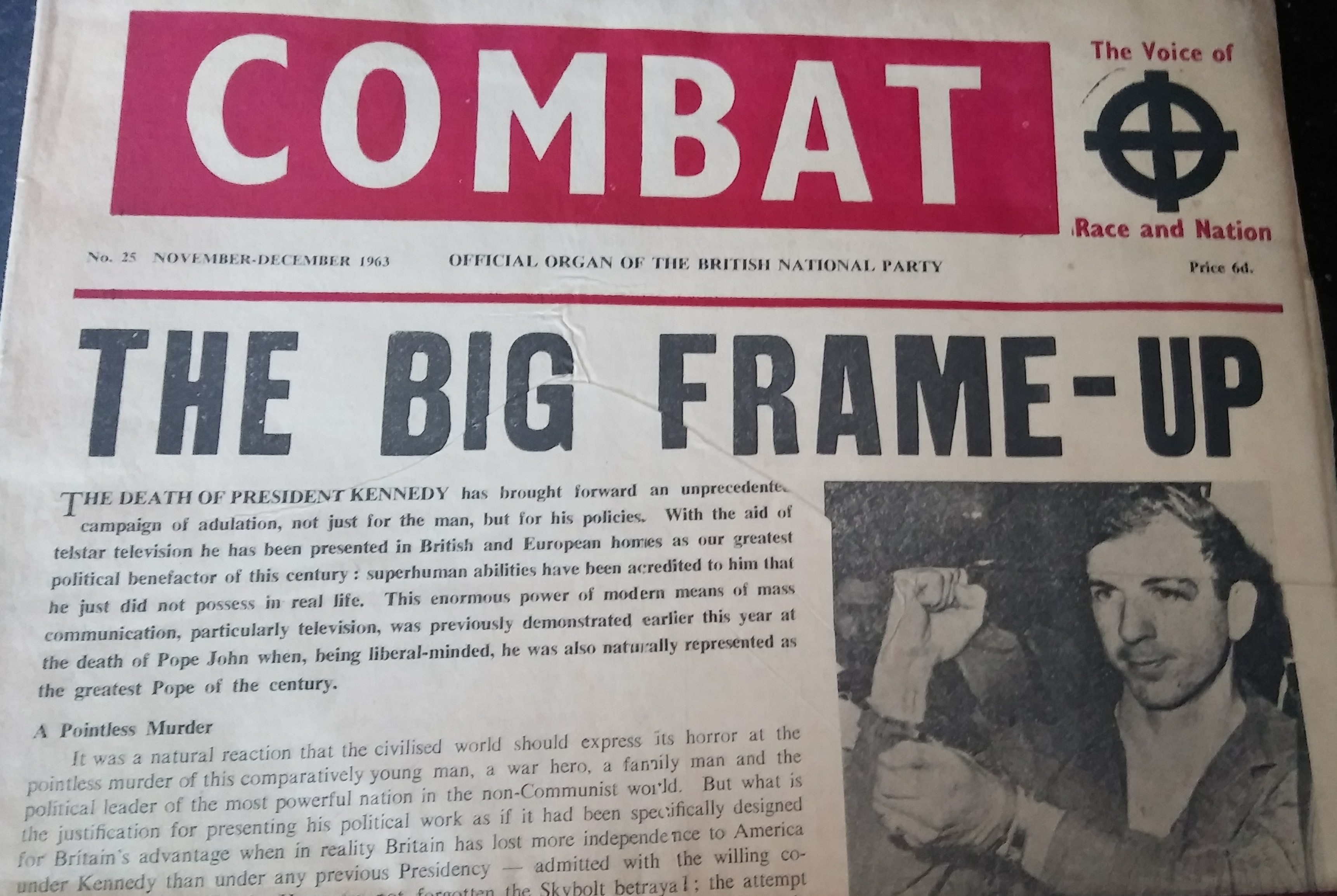 I encourage the listeners to write to Lawrence, to help keep his spirits up, his address is below:
Lawrence Burns
A1796DX (X2-49)
HMP Peterborough
Peterborough
PE3 7PD
United Kingdom
Please do not put anything political or inflammatory in your letter, as this may be confiscated by the prison authorities before it reaches Lawrence.
TUESDAY AUGUST 1
Mark Anderson – This Week's American Free Press
On today's show I will be joined by Mark Anderson of AFP, to run through selected articles in the new edition of the American Free Press.
Click Here For The American Free Press Website
WEDNESDAY AUGUST 2
Gertjan Zwiggelaar – How The Whites Are Persecuted In White Nations For Being White
On today's show I was joined by Gertjan Zwiggelaar to provide examples of, "How The Whites Are Persecuted In White Nations For Being White."
We discussed: how Gertjan is being evicted from his apartment for expressing legitimate opinions to the owners; how native White populations are expected to suffer the actions of immigrants, or face prosecution for speaking out; the role of women in society; why our own governments' have implemented legislation against us to prevent us from standing up for the rights of our people; and many other topics.
Click Here To Read Gertjan's Book, "The Horror – An Indepth Look Into The Koran," Online For Free
THURSDAY AUGUST 4
Robert Gaylon Ross – The Clint Murchison Meeting
On today's show I was joined by Robert Gaylon Ross to discuss, "The Clint Murchison Meeting," which took place in Dallas on the eve of the Kennedy Assassination.
There were 26 attendees which included: Lyndon Baines Johnson; George Brown (of Brown and Root); John J. McCloy (Chairman of Chase Manhattan Bank); Richard Nixon; J. Edgar Hoover and his partner Clyde Tolson; John Connally (who was in the car with Kennedy during the assassination); Jack Ruby; Carlos Marcello (a Mafia boss); and Billie Sol Estes, a business associate of Lyndon Baines Johnson.
Gaylon has produced two DVD's, the first of which he interviews Billie Sol Estes, and in the second he interviews Madeleine Duncan Brown, who was Lyndon Baines Johnson's mistress both before and after the Kennedy assassination, during which time she gave birth to his son.
We discussed these excellent DVD's, both of which I have watched, and also ran through the background of Billie Sol Estes and Madeleine Duncan Brown, both of whom were close friends of Gaylon for many years.
Click Here For Gaylon's Website Where You Can Purchase These DVD's
FRIDAY AUGUST 4
Dr. Adrian Krieg – My First Days In The White House
On today's show I was joined by Dr. Adrian Krieg, who outlined what he would do if he were President of the United States of America.
Adrian's policies included: closing many government departments such as the Department of Homeland Security and the NSA; withdrawing from the United Nations; dismissing every dual national government employee; eliminating all government pensions, benefits, and perks from all elected offices including that of the president senators and congressmen; and many other interesting ideas.