JEWISH GENOCIDE OF THE WHITE RACE – CASE CLOSED! PART 2
JEWISH GENOCIDE OF THE WHITE RACE – CASE CLOSED! PART 2
On March 1 2015 I published my article, "Jewish Genocide Of The White Race – CASE CLOSED!" on this website.
Since that article was published the Jews have ramped up their support of immigration, which is exclusively one way traffic into what are fast becoming formerly White nations.
The purpose of this article is to provide updated information showing how the Jews are not only behind immigration, but are also well aware of the destructive effects it has on the host countries it is foisted upon.
On Tuesday May 3rd 2016 the, "Jewish Council For Racial Equality (JCORE)," sent the following letter to British Prime Minister, David Cameron, from members of the Jewish community.

Dear Mr Cameron,
Many of us in the Jewish community are shocked by the failure of the government to act now and offer a lifeline to a small proportion of the 95,000 unaccompanied children currently in Europe.
We applaud the steps you have taken to support refugees in and around conflict areas, most recently by pledging to resettle 3,000 vulnerable children from the Syrian region. But this cannot be a substitute for supporting those children who have already made their way to Europe. They must not be punished for having made a perilous journey independently of a government resettlement scheme.
Italy and Greece are simply overwhelmed by the number of refugees and unaccompanied children who have arrived on their shores. We welcome the £10 million fund to assist unaccompanied children in Europe, but money alone will not protect these young children from traffickers, gangs, slavery, rape or other forms of abuse and exploitation. Nor will it prevent them from attempting further dangerous journeys that may well end in their deaths.
Resettling them in this country, as proposed by Lord Dubs' amendment, and setting an example to our European neighbours, most definitely will.
Alf Dubs was himself one of 10,000 children saved by the Kindertransport to Britain. The situation is different today, but offering a home to some of these children is still well within our means. For all we know, one of them might be the next Alf Dubs.
Please support the Dubs amendment.
Yours sincerely,
Dr Edie Friedman – Executive Director, Jewish Council for Racial Equality
40 rabbis representing United, Reform, Masorti, Liberal and independent congregations in the UK, and 326 others.
Click Here To Read This Letter On Their Website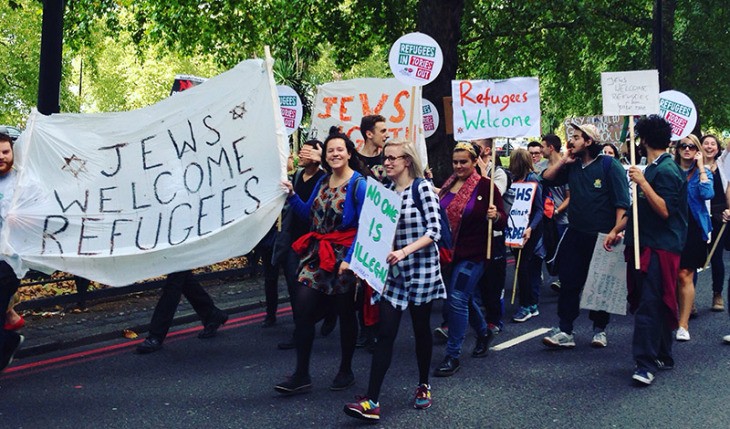 The, "Jewish Council For Racial Equality," also manages the, "Support The Refugees," website which states the following on its front page,
This website is designed to be a one-stop shop for those who want to get involved in supporting refugees and asylum seekers both in the UK and abroad.
Support Refugees was set up and is managed by The Jewish Council for Racial Equality (JCORE) and West London Synagogue of British Jews.
Special thanks to JLGB,  who helped get the website off the ground and to the Jewish Social Action Forum, where the idea for such a website first arose.
It is supported across the community, including the following organisations:
Board of Deputies
Liberal Judaism
Masorti Judaism
Movement for Reform Judaism
Office of the Chief Rabbi
United Synagogue
Click Here To Visit Their Website
N.B.  Please note that the JLGB organisation that is referred to calls itself, "Positive Activities For Jewish Youth," so clearly Jews of all ages support this immigration into White Nations.
Click Here For The JLGB Website
Now contrast the Jews open door immigration policy in White nations with the following they state with regard to immigration into Israel. This is from the Israeli Prime Minister's Office website, dated June 9th 2015.

"Prime Minister Netanyahu: Today we are starting to build the security fence along our eastern border, in continuation of the security fences that we built along the Egyptian border. Of course, they will ultimately link up with the security fence we built on the Golan Heights."
Click This Link For The Full Article
So, in summary, whilst we have the Jews in the UK pushing for mass immigration, their own Prime Minister is building security fences. I wonder why? Maybe his next comment in the aforementioned article on the Israeli Prime Minister's Office website will tell us.
"Today we see what is happening to countries that have lost control of their borders. The combination of very brutal terrorism, labor migrants, smugglers and the loss of control in the face of the human tragedy that is taking place 360 degrees, says that we must restore control and ensure Israel's control of its borders, almost 360 degrees, because – of course – we also have a maritime border, and this is what we are doing."
What does that tell the reader with regard to the motives behind Jewish support of immigration into White nations?
For me, and based upon the words of their Prime Minister, the Jewish purpose behind immigration is to:
1) Encourage Terrorism in White nations;
2) Destroy the economy of White nations buy flooding it with an excess of unwanted labour;
3) Increase crime in White nations such as smuggling; and
4) Keep their fingers crossed that this results in a loss of control in White nations which will inevitably conclude with the destruction of those nations.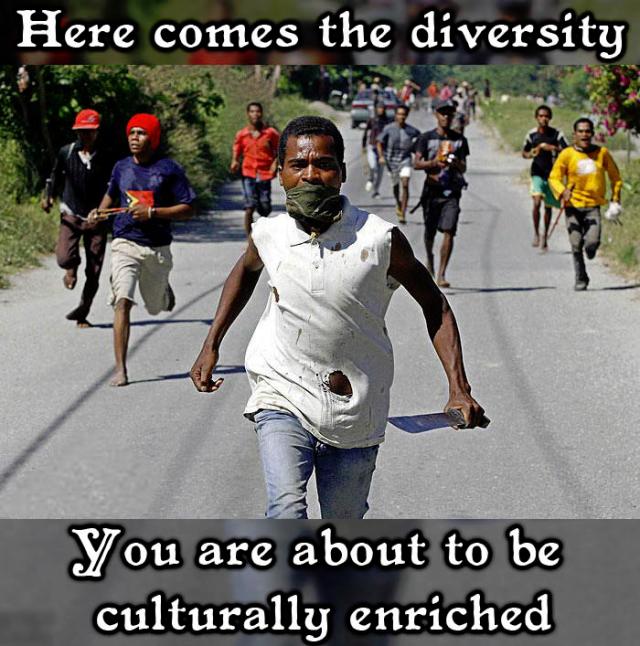 This is the real purpose of Jewish sponsored immigration folks, to destroy the Jews most hated enemy, the White race, whilst preventing their own country Israel from suffering the same fate.
If this is not, Jewish Genocide of the White Race – CASE CLOSED, I don't know what is.
Andrew Carrington Hitchcock
May 4 2016
On May 9 2016, I recorded a show on this article with Dave Gahary of The American Free Press.  This was my debut show on The American Free Press Radio Network.  We refer to the article as, "Do Jews Want The Destruction Of The White Race," as this is what it was called on The American Free Press Website.
You can listen to the May 9 show with Dave below.
Click Here For My Original Article Jewish Genocide Of The White Race – CASE CLOSED! Which Dave And I Also Discussed In Our Show